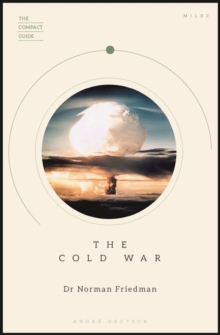 0233005919 / 9780233005911
A graphic account of this long-running global drama, The Compact Guide: The Cold War is published in a new era of fear and uncertainty.
It encompasses moments of high tension, such as the Berlin Crisis of 1961, the Cuban Missile Crisis of 1962 and the nuclear alerts of 1973 and 1983.
At several times the world stood on the brink of nuclear Armageddon, but these dangerous moments all ended with both sides drawing back, until the long confrontation ended peacefully.
Written by a leading American defence analyst, Dr Norman Friedman, The Compact Guide: The Cold War is supplemented with 60 photographs and documents that allow the reader to witness the events as they unfolded.
Maps, diaries, letters and other items which, up till now, have remained filed or exhibited in the Imperial War Museum and other museum collections in Northern Europe and America include a 1963 nuclear attack protective booklet produced for homeowners by the British government and the official pack for US troops passing through Checkpoint Charlie, with practical advice on visiting Communist-controlled East Berlin.
BIC:
3JJ 20th century, HBG General & world history, HBTW The Cold War, HBW Military history