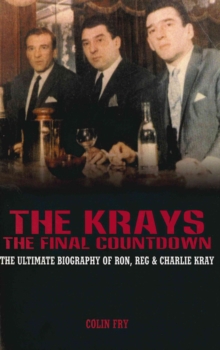 The Krays : the final countdown
1840184485 / 9781840184488
24 cm 223p., [8]p. of plates
The Krays were a product of their age, nurtured by a doting mother and created by their community, the East End of London.
Their name alone conjures up images of power, violence and greed - and even brother Charlie counldn't steer the twins Ron and Reg clear of murder mayhem as they killed their way to the top of the criminal tree.
They lived by their own rules. And died by them. The three brothers will never be forgotten. They are an indelible part of our history, whether we like it or not.
From media-manipulation to control-freak paranoia, the Krays were masters of deception.
Even at the end Reg Kray was still portraying himself as just an ordinary East Ender - mistreated by the Home Office and the police, misunderstood and mistakenly labelled "Godfather of Crime" by the media.
This biography traces their history from childhood and early adolescence to manhood and death.
It explores the brothers' fantasy lives, full as they were of mind games and false memories.
Only now can the truth be revealed - without fear of intimidation, retribution or revenge.
The Krays are dead and buried, but the myth lives on.
BIC:
1DBKESL London, Greater London, BG Biography: general, BTC True crime, JKVM Organized crime
Title Unavailable: Out of Print