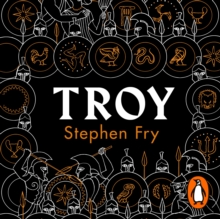 Troy (Unabridged edition)
1405944722 / 9781405944724
Brought to you by Penguin. Following the bestselling retellings of the Greek myths in Mythos and Heroes, Stephen Fry's bewitching third volume Troy - concerning love and war, passion and power - is now ready for ordering. The story of Troy speaks to all of us - the kidnapping of Helen, a queen celebrated for her beauty, sees the Greeks launch a thousand ships against the city of Troy, to which they will lay siege for ten whole and very bloody years. It is Zeus, the king of the gods, who triggers the war when he asks the Trojan prince Paris to judge the fairest goddess of them all.
Aphrodite bribes Paris with the heart of Helen, wife of King Menelaus of the Greeks, and, naturally, nature takes its course. It is a terrible, brutal war with casualties on all sides as well as strained relations between allies.
The Greek's most fearsome warrior, Achilles, argues with King Agamemnon, his commander, over another woman, the Trojan slave Briseis.
The consequences lead to terrible tragedies. In Troy you will find heroism and hatred, love and loss, revenge and regret, desire and despair.
It is these human passions, written bloodily in the sands of a distant shore, that still speak to us today. It is a myth in which we seek the truth about ourselves and which Stephen Fry brings breathtakingly to life. Praise for Heroes and Mythos:'Ebullient and funny' The Times'Entertaining and edifying' Daily Telegraph'The Greek gods of the past become relatable as pop culture, modern literature and music are woven throughout.
Joyfully informal yet full of literary legacy' Guardian'An odyssey through Greek mythology.
Brilliant . . . all hail Stephen Fry' Daily Mail'A romp through the lives of ancient Greek gods.
Fry is his story-telling best . . . the gods will be pleased' The Times (c) Stephen Fry 2020 (P) Penguin Audio 2020
BIC:
1QDAG Ancient Greece, 3D BCE to c 500 CE, FQ Myth & legend told as fiction, HRKP3 Ancient Greek religion & mythology, JFHF Folklore, myths & legends, VXQM Monsters & legendary beings, VXW Mysticism, magic & ritual