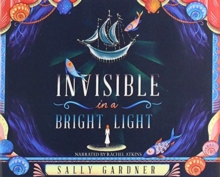 Invisible in a Bright Light (Unabridged ed)
1789548314 / 9781789548310
From I, Coriander to Invisible in a Bright Light, Sally Gardner's first middle grade novel in 14 years soars with the imagination of a master story-teller.
A pitch perfect, haunting story about a crystal chandelier shaped like a galleon that splinters into a thousand pieces, a girl abandoned as a baby on the steps of an opera house and a dangerous game called the Reckoning.
It is 1870: opening night at the Royal Opera House in a freezing city by the sea, where a huge crystal chandelier in the shape of a galleon sparkles magically with the light of 750 candles.
Celeste, a theatre rat, wakes up in a costume basket from what she hopes is a bad dream, to find that everyone at the theatre where she works thinks she is someone else.
When the chandelier falls, she is haunted by a strange girl who claims to know Celeste's past and why she must play a game called the Reckoning to try to save the people she loves. "In the watery cave of dreams hang the sleepers suspended on boat hooks. 'What if I don't want to play your game?' Celeste says.
He leans back in his chair. 'Then you join the first row of sleepers. It's your decision.' 'What is the game called?' she asks. 'What are the rules?' 'It is called the Reckoning and only I know the rules.' 'Then it isn't fair.' 'I never said it was.
This is a game I always win,' he says. 'I will help you this much - and I am being too generous.
The player - that is you - was abandoned as a baby on the steps of the great opera house in the city of C.'"
BIC: