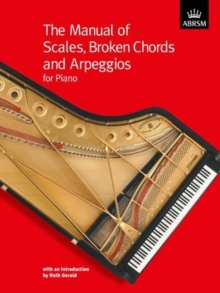 The Manual of Scales, Broken Chords and Arpeggios
1860961126 / 9781860961120
230 x 306 mm, 342 grams 96 pages
The ABRSM's popular and well-established Manual of Scales, Arpeggios and Broken Chords is now published in a new modern edition.
Still containing all the standard scale and arpeggio patterns, it has been enlarged to include whole-tone scales, augmented arpeggios and additional broken chord patterns.
Ruth Gerald, formerly Head of Keyboard Studies at the Royal College of Music and a senior ABRSM consultant and examiner, has written an informative introduction, whichincludes some technical guidance and practice suggestions.
This new edition with its clear page layout and accessible structure is an excellent resource for all pianists.
BIC: