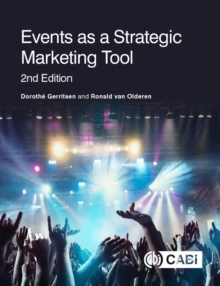 Events as a Strategic Marketing Tool (2 ed)
1789242304 / 9781789242300
189 x 246 mm, 629 grams 256 pages
Professional & Vocational Learn More
Tertiary Education (US: College)
Events have come to play an ever-growing role in marketing; by connecting products and services with experiences and vice versa, producers can create important added value.
Events as a Strategic Marketing Tool, 2nd edition describes how events can be used as a strategic tool in marketing practices.
Fully updated and with new case studies throughout, this second edition reviews the way organizations use events to connect with their visitors.
It covers the development of the experience economy, the steps from strategy to concept, event design and touchpoints.
It also considers the areas of marketing within which experiences play a role, such as branding, relationship marketing and city marketing.
Concluding with a chapter on effect measurement and evaluation, and including a wealth of internationally relevant examples, the book gives a thorough insight into the way events can help reach strategic marketing goals.
With coverage of a wide range of marketing areas, the book also includes content on cutting-edge topics such as neuromarketing, providing students with a comprehensive introduction to using events as part of the marketing mix.
Contains numerous international examples that showcase the variety of ways that events can be used A wealth of images illustrate the theory, helping students to visualize concepts and improve understanding.
This new edition provides an engaging resource for both students and professionals interested in leisure, tourism and events.
BIC:
KNSG Tourism industry, KNT Media, information & communication industries