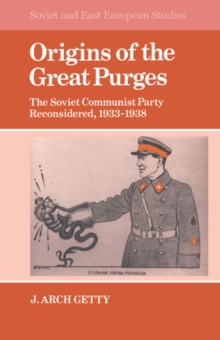 Origins of the great purges : the Soviet Communist Party reconsidered, 1933-1938
0521335701 / 9780521335706
Reprint. Transferred to digital printing. Originally published: 1985.
This is a study of the structure of the Soviet Communist Party in the 1930s.
Based upon archival and published sources, the work describes the events in the Bolshevik Party leading up to the Great Purges of 1937-1938.
Professor Getty concludes that the party bureaucracy was chaotic rather than totalitarian, and that local officials had relative autonomy within a considerably fragmented political system.
The Moscow leadership, of which Stalin was the most authoritarian actor, reacted to social and political processes as much as instigating them. Because of disputes, confusion, and inefficiency, they often promoted contradictory policies.
Avoiding the usual concentration on Stalin's personality, the author puts forward the controversial hypothesis that the Great Purges occurred not as the end product of a careful Stalin plan, but rather as the bloody but ad hoc result of Moscow's incremental attempts to centralise political power.
BIC:
1DVU Former Soviet Union, USSR (Europe), 3JJ 20th century, HBJD European history, HBLW 20th century history: c 1900 to c 2000, JPL Political parties