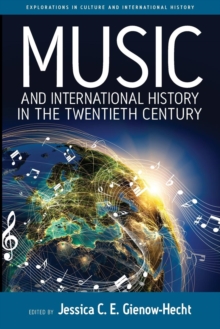 Music and International History in the Twentieth Century
1785337580 / 9781785337581
Usually dispatched within 2 weeks
Bringing together scholars from the fields of musicology and international history, this book investigates the significance of music to foreign relations, and how it affected the interaction of nations since the late 19th century.
For more than a century, both state and non-state actors have sought to employ sound and harmony to influence allies and enemies, resolve conflicts, and export their own culture around the world.
This book asks how we can understand music as an instrument of power and influence, and how the cultural encounters fostered by music changes our ideas about international history.
BIC:
3JJ 20th century, AV Music, HBG General & world history, HBLW 20th century history: c 1900 to c 2000, HBTB Social & cultural history