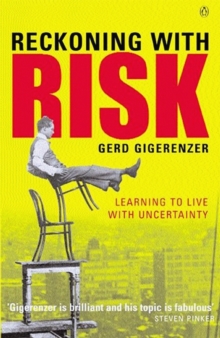 Reckoning with risk : learning to live with uncertainty
0140297863 / 9780140297867
20 cm viii, 310 p. : ill.
Reprint. Originally published: as Calculated risks. New York: Simon & Schuster; as Reckoning with risk. London: Allen Lane, 2002.
At the beginning of the 20th century, the father of modern science fiction, H.G.
Wells, predicted that statistical thinking would be as necessary for citizenship in a technological world as the ability to read and write.
Yet, a century on, most of us, from television weather forecasters to the American President, seem to have no idea of how to reason about uncertainties.
Accordingly, a number of books have marshalled a long roster of cognitive illusions as evidence of humans' fundamental irrationality.Detailing case histories and examples, this text presents readers with tools for understanding statistics.
In so doing, it encourages us to overcome our innumeracy and empowers us to take responsibility for our own choices.
BIC:
Prizes:
S 2003 Aventis Prize for Science Books