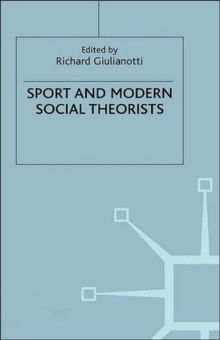 Sport and modern social theorists
0333800796 / 9780333800799
Usually dispatched within 2 weeks
research & professional Learn More
academic/professional/technical
Sport and Modern Social Theorists is an innovative and exciting new collection.
The chapters are written by leading social analysts of sport from across the world, and examine the contributions of major social theorists towards our critical understanding of modern sport.
Social theorists under critical examination include Marx, Weber, Durkheim, Adorno, Gramsci, Habermas, Merton, C.Wright Mills, Goffman, Giddens, Elias, Bourdieu and Foucault.
This book will appeal to students and scholars of sport studies, cultural studies, modern social theory, and to social scientists generally.
DAVID L. ANDREWS is Associate Professor, Sport Commerce and Culture Project, Department of Kinesiology, University of Maryland - College Park, USA SUSAN BIRRELL is Professor and Chair of the Department of Health and Sport Studies, University of Iowa, USA DOUGLAS BOOTH is Professor of Sport and Leisure Studies, University of Waikato, New Zealand C.L.COLE is Associate Professor of Gender and Women's Studies, Kinesiology, Criticism and Interpretive Theory, Afro-American Studies, and Sociology at the University of Illinois at Urbana-Champaign, USA PETER DONNELLY is Director of the Centre for Sport Policy Studies, and Professor, Faculty of Phyiscal Education and Health, University of Toronto, Canada MICHAEL D.
GIARDINA is a Doctoral Candidate in the Department of Kinesiology and The Program for Cultural Studies and Interpretive Research, University of Illinois at Urbana-Champaign, USA JENNIFER HARGREAVES is Professor of Sport Sociology, Department of Sport Sciences, Brunel University, London, UK JOHN HORNE Lectures in Sociology of Sport at the University of Edinburgh, UK ALAN G.INGHAM is Senior Professor of Sport Studies and Assistant Chair, Department of Physical Education, Health and Sport Studies, Miami University, USA DAVID INGLIS is Lecturer in Sociology, University of Aberdeen, UK DAVID JARY is Visiting Professor, Learning and Teaching Support Network Subject Centre for Sociology, Anthropology and Politics, University of Birmingham, UK JOHN LOY is Adjunct Professor, Department of Sociology and Anthropology, University of Rhode Island, USA WILLIAM J.
MORGAN is Professor of Cultural and Sport Studies, Ohio State University, USA DAVID ROWE is Lecturer in the School of Social Sciences and Director of the Cultural Industries and Practices Research Cen
BIC: