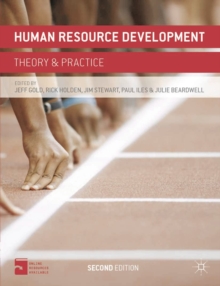 Human resource development : theory and practice (2nd edition)
0230367151 / 9780230367159
This core textbook, edited by five leading scholars of the subject, provides a comprehensive overview of the key topics, debates and themes in this increasingly important field.
Balancing research-led theory with industry best-practice to provide students with a definitive overview of HRD, the book draws on the international experience of its authors to tackle topics as diverse as leadership and managing development, change and diversity, workplace learning, and graduate employability.
The book's approachable yet thorough writing style and lively presentation helps students to understand the topic from a critical perspective while also demonstrating how HRD plays out in reality. This is an essential textbook for undergraduate, postgraduate and MBA students of Human Resource Development on HRD or Business and Management degree programmes.
BIC: