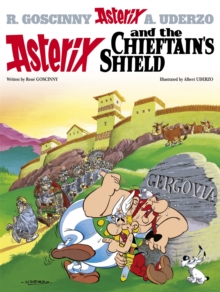 Asterix and the chieftain's shield : Goscinny and Uderzo present an Asterix adventure (Rev. ed)
Part of the Asterix series
0752866257 / 9780752866253
29 cm 48 p. : chiefly col. ill.
Asterix is the highest-selling book series in the world. Worldwide sales now exceed 307,000,000, outstripping even J K Rowling. Asterix has been translated into over 100 languages and dialects. 11,000 web sites devoted to Asterix. Combined UK sales of the last 5 books - 2.2 million copies.
Gaul was divided into three parts. No, four parts - for one small village of indomitable Gauls still held out against the Roman invaders.
BOOK 11 The hero Vercingetorix once defeated Julius Caesar near Gergovia in the Arvernian country.
Although the tables were turned later at the battle of Alesia, the Gauls remember Gergovia as a glorious victory.
Years later, Caesar plans to parade with Vercingetorix's shield - but where can it be?
The Romans and the Gauls race to find it.
BIC:
5AH Interest age: from c 7 years, YFW Comic strip fiction / graphic novels (Children's / Teenage)