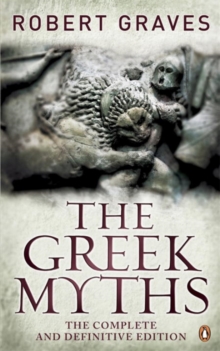 The Greek myths (Complete and definitive ed)
0241952743 / 9780241952740
Usually dispatched within 2 weeks
22 cm 782 p. : ill., maps
Reprint. This ed. originally published: London: Penguin, 1992.
*The definitive and comprehensive edition of Robert Graves's classic retelling of the Greek myths*'Icarus disobeyed his father's instructions and began soaring towards the sun, rejoiced by the lift of his great sweeping wings.
Presently, when Daedalus looked over his shoulder, he could no longer see Icarus; but scattered feathers floated on the waves below...'These are the greatest stories ever told - the labours of Hercules, the voyage of the Argonauts, Theseus and the minotaur, Midas and his golden touch, the Trojan War and Odysseus's journey home - brought together into one epic and unforgettable story.
Ideal for the first time reader, it can be read as a single page-turning narrative, while full commentaries as well as a comprehensive index of names make it equally valuable for anyone seeking an authoritative and detailed account of the spectacular stories that make up the bedrock of Western literature. The Greek Myths is a classic among classics, a treasure trove of extraordinary tales and a masterful work of literature in its own right.
BIC:
FQ Myth & legend told as fiction, HRKP3 Ancient Greek religion & mythology, JFHF Folklore, myths & legends
£14.99
The title has been replaced. To check if this specific edition is still available please contact Customer Care +44(0)1482 384660 or schools.services@brownsbfs.co.uk, otherwise please click 9780241982358 to take you to the new version.
* Variable discounts between 0% and 15% are applied to items where BBfS cannot determine exact discounts from suppliers.
Other Formats