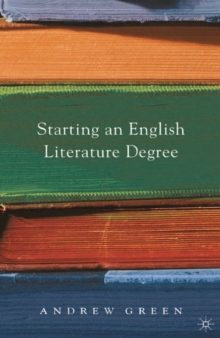 Starting an English literature degree
0230211836 / 9780230211834
Usually dispatched within 2 weeks
Competition to study English Literature at university is now tougher than ever before.
How can you make sure your application stands out? What is expected of you at university? How will you adapt to the changes in teaching, learning and lifestyle?
The world of English Literature is an unfamiliar yet exciting one, and clear guidance on how to cope with the demands of university-level study is essential if you want to succeed. Andrew Green takes you from the A level/school/college classroom to the university lecture theatre, covering everything from:* deciding which university and course is right for you * making initial applications * tackling Summer reading lists to the skills needed for studying at degree level: * preparing for lectures, seminars and tutorials * interpreting reading lists and developing your reading skills * applying literary theory * becoming a better writer * referencing an essay and avoiding plagiarism * researching online.
Whether you are just thinking about taking English Literature to degree level, or needing help through your university course, Starting an English Literature Degree is the must-have companion.
BIC: