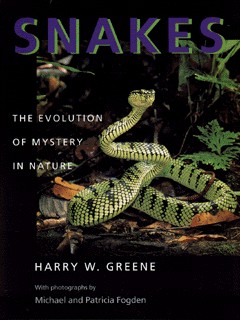 Snakes : the evolution of mystery in nature
0520200144 / 9780520200142
29 cm xiii, 351p. : col. ill.
This text presents every facet of the natural history of snakes: their diversity, evolution and conservation.
It provides an up-to-date summary of the biology of snakes on a global basis.
Eight chapters are devoted to general biology topics, including: anatomy; feeding; venoms; predation and defence; social behaviour; reproduction; evolution; and conservation.
Another eight chapters survey the major snake groups, including blindsnakes, boas, colubrids, stiletto snakes, cobras, seasnakes and vipers.
Details of particular interest, such as coralsnake mimicry and the evolution of the rattle, are highlighted as special topics.
BIC: