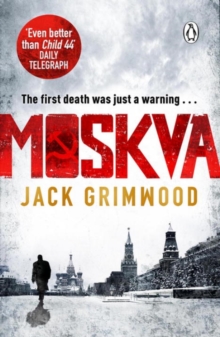 Moskva
1405921722 / 9781405921725
Originally published: London: Michael Joseph.
*Longlisted for the 2017 CWA Ian Fleming Steel Dagger for best thriller*'Even better than Child 44' Daily Telegraph'Peppered with memorable characters, carved with precision, ... highly recommended' Shots Magazine'Given that the definitive thriller in 1980's Moscow already exists (Gorky Park), Moskva looks like a crazy gamble.
But it's one that comes off' Sunday Times'A riddle wrapped in a mystery inside an enigma . . .' January, 1986. A week after disgraced Intelligence Officer Tom Fox is stationed to Moscow the British Ambassador's fifteen-year-old daughter goes missing.
Fox is ordered to find her, and fast. But the last thing the Soviets want is a foreign agent snooping about on their turf.
Not when a killer they can't even acknowledge let alone catch is preparing to kill again . . . A Cold War thriller haunted by an evil legacy from the Second World War, Moskva is a journey into the dark heart of another time and place. 'Mesmerising, surefooted, vividly realised . . . something special in the arena of international thrillers' Financial Times'A compulsive and supremely intelligent thriller from a master stylist' Michael Marshall, author of The Straw Men'A blizzard of exciting set pieces, superbly realized' Daily Telegraph
BIC: