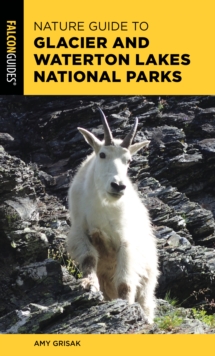 Nature Guide to Glacier and Waterton Lakes National Parks
1493044672 / 9781493044672
108 x 178 mm 264 pages, 1 Maps; 190 Halftones, color
Glacier National Park, known as the Crown of the Continent, is a stunningly beautiful mountain landscape adorned with glaciers and snowfields.
Combined with its sister park, Waterton Lakes Park in southern Alberta, the two become Waterton-Glacier International Peace Park, the first of its kind in the world.
These wild places are the realm of the grizzly and the mountain goat, along with the diminutive pika and delicate, yet exceptionally hardy, wildflowers that put on a dazzling display in the short season between the months of snow.
As a result, it's not surprising that Glacier and Waterton are some of the most-loved parks in the National Park system.
In 2017, Glacier broke attendance records welcoming over 3.3 million visitors, and with another record-breaking start to the 2018 (May surpassed the previous record in 2016 with over 195,000 people), it appears these numbers are trending consistently upward.
Last July, Glacier even surpassed Yellowstone's July visitation with over 1 million guests passing through its gates. And the much smaller Waterton receives over a half-million visitors each season.
Visitors to Glacier and Waterton have a lot of questions, and there isn't a ranger around every corner to answer them.
The Nature Guide to Glacier and Waterton National Parks will be their handy resource to what they want to know, whether they want to identify the beautiful butterfly flitting through their campsite, or how to tell the difference between a black bear and grizzly.
As with the other titles in the series, the Nature Guide to Glacier and Waterton will allow readers to quickly and easily understand the unique residents and features of the park.
BIC:
1KBBW Western & Pacific Coast states, 1KBC Canada, WNC Wildlife: general interest, WNP Trees, wildflowers & plants, WTHH1 Caravan & camp-site guides