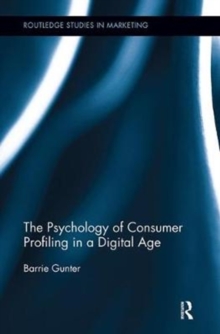 The psychology of consumer profiling in a digital age
113834074X / 9781138340749
Reprint. Includes QR code. Originally published: 2016.
Understanding how consumers choose between different products and services is a crucial part of professional marketing.
Targeting brands at the consumers most likely to be interested in them is another critical aspect of business success.
Marketers need to know what consumers think about brands, why they like them and what purposes they serve.
This means delving into the psychology of the consumer to find ways of differentiating between consumers and matching brands to consumer niches at the level of consumers' relationships with brands.
Using psychology to segment consumers has been regarded as a valuable adjunct to standard geo-demographic definitions of market segments.
The Psychology and Consumer Profiling in a Digital Age examines how this field of 'psychographics' has evolved, the different approaches to psychological segmentation of consumers, the different ways in which it has been applied in consumer marketing settings, and whether psychographics works.
It draws upon research from around the world and incorporates its analysis of the use of psychographics with an examination of major shifts in marketing in a digital and global era.
BIC: