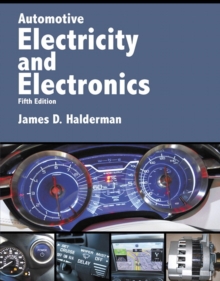 Automotive electricity and electronics (Fifth edition)
0134073649 / 9780134073644
28 cm xvii, 504 pages : illustrations (colour)
KEY BENEFIT: Automotive Electricity and Electronics, 5/e, provides complete coverage of the parts, operation, design, and troubleshooting of automotive electricity and electronics systems, as well as the practical skills that readers must master to be successful in the industry.
Real examples and full color images throughout the text offer readers a practical approach to the diagnosis and repair of the NATEF tasks for the Automotive Electricity/Electronic Systems (A6) content area.
All of the content is correlated to the latest NATEF tasks and ASE areas, and information on new OSHA hazardous chemical labeling requirements, three-legged and low profile fuses plus smart junction boxes, and immobilizer systems is included. KEY TOPICS: Service Information, Tools, and Safety; Environmental and Hazardous Materials; Electrical Fundamentals' Electrical Circuits and Ohm's Law; Series Circuits; Parallel Circuits; Series-Parallel Circuits; Circuit Testers and Digital Meters; Oscilloscopes and Graphing Multimeters; Automotive Wiring and Wire Repair; Wiring Schematics and Circuit Testing; Capacitance and Capacitors; Magnetism and Electromagnetism; Electronic Fundamentals; Computer Fundamentals; CAN and Network Communications; Batteries; Battery Testing and Service; Cranking System; Cranking System Diagnosis and Service; Charging System; Charging System Diagnosis and Service; Lighting and Signaling Circuits; Driver Information and Navigation Systems; Horn, Wiper, and Blower Motor Circuits; Accessory Circuits; Airbag and Pretensioner Circuits; Audio System Operation and Diagnosis. MARKET: This title fills the need for a text that covers the ASE/NATEF designated topic of Automotive Electrical and Electronic Systems (A6).
It is designed to be a two-semester text and covers the fundamental, as well as the advanced, electrical topics taught in all schools and colleges that teach automotive electricity and electronics.
BIC: