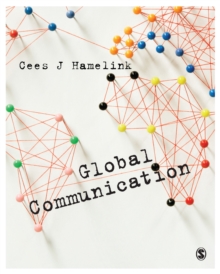 Global Communication
1849204233 / 9781849204231
Stock expected by 04/12/2020
170 x 242 mm, 650 grams 296 pages
"Comprehensive in its scope and scale, rigorously argued and richly illustrated with wide-ranging examples, this clearly written and user-friendly book from a veteran commentator on international communication will be valuable for students and scholars.
Strongly recommended."- Daya Thussu, Professor of International Communication, University of WestminsterGlobal Communication explores the history, present and future of global communication, introducing and explaining the theories, stories and flows of information and media that affect us all.
Based on his experience teaching generations of students to critically examine the world of communication around them, Cees Hamelink helps readers understand the thinkers, concepts and questions in this changing landscape.
This book:Explores the cultural, economic, political and social dimensions and consequences of global communicationIntroduces the key thinkers who have been inspirational to the fieldTeaches you to master the art of asking critical questionsTakes you through concrete cases from UN summits to hot lines and cyber-surveillanceBoosts your essay skills with a guided tour of the literature, including helpful comments and recommendations of what to citeBrings you directly into the classroom with a series of video lecturesThis book guides students through the complex terrain of global communication, helping you become a critically informed participant in the ever-changing communication landscape.
It is essential reading for students of communication and media studies.
BIC: