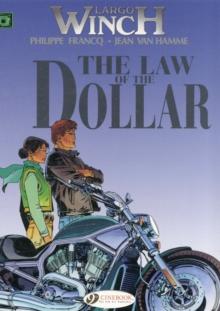 The law of the dollar
1849181179 / 9781849181174
26 cm 48 p. : chiefly ill. (chiefly col.)
Accused of murder and hated by an entire nation, Largo is hiding in Canada and feeling very much alone.
But his friendships are stronger than his circumstances, and soon he's able to counterattack against the various factions that are trying to bring him down.
Greedy lawyers, crooked CEOs, murderous accountants, all pitted against the orphan turned billionaire - In the end, only the smartest and strongest will prevail - for such is the Law of the Dollar.
BIC: