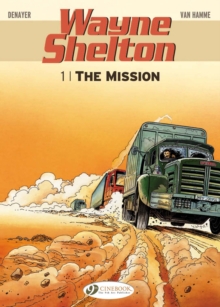 Wayne Shelton1,: The mission
1849181594 / 9781849181594
Usually dispatched within 2 weeks
26 cm 56 p. : chiefly col. ill.
Meet Wayne Shelton, the man you call when you want the impossible done. When a high-ranking official of a small nation in the Caucasus is killed in a car accident, the plans of a massive multinational corporation are derailed by one man: the unfortunate French trucker who caused the accident.
Pressure from the unions in France and the military in Khalakjistan prevents a quick diplomatic solution.
So, to secure its own interests, the corporation calls upon the one man who can break the trucker out of prison and disarm the confrontation: Wayne Shelton.
BIC: