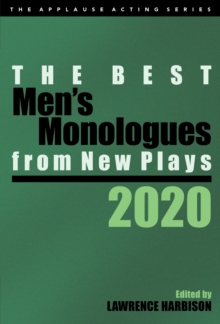 The Best Men's Monologues from New Plays, 2020
149305323X / 9781493053230
Renowned editor Lawrence Harbison brings together approximately one hundred never-before-published men's monologues for actors to use for auditions and in class, all from recently produced plays.
The selections include monologues from plays by both well-known playwrights such as Don Nigro, Theresa Rebeck, Rob Ackerman, Len Jenkin, Stephen Belber, and Tim Blake Nelson, and future stars such as David MacGregor, Reina Hardy, Chris Daftsios, Frank Baslo and Will Arbery. There are terrific comic and dramatic pieces, and all represent the best of contemporary playwriting.
This collection is an invaluable resource for aspiring actors hoping to ace their auditions and impress directors and teachers with contemporary pieces.
BIC: