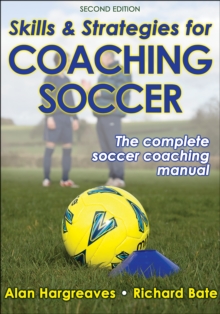 Skills and strategies for coaching soccer (2nd ed.)
0736080228 / 9780736080224
Stock expected by 23/11/2019
26 cm xviii, 370 p. : col. ill.
Previous ed.: Champagne, Ill.; Leeds: Leisure, 1990.
The second edition of "Skills and Strategies for Coaching Soccer" is fully updated and revised, bringing the book right up-to-date with current coaching trends and practices.
Building on the success of the first edition Alan Hargreaves together with Dick Bate have produced a resource that is truly relevant to every coach irrespective of individual style and experience.
It covers all aspects of the job; from philosophy to match management, providing key advice for coaches working with players of all abilities.
Every essential soccer skill is covered in a progressive manner in order to get optimum results from players in real match situations.
There are extensive chapters on tactics, which provide advice on team formation and set-pieces for offensive and defensive situations.
Skills will be built up from basic practices through to drills that are practiced by professional players.
What's more, all of the technique illustrations from the first edition have been replaced with photos and all drills are accompanied with informative illustrated diagrams.
BIC:
WSD Sports training & coaching, WSJA Football (Soccer, Association football)