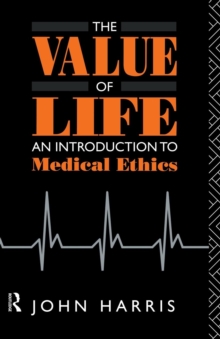 The value of life
0415040329 / 9780415040327
Usually dispatched within 4 weeks
Reprint. Originally published: London: Routledge & Kegan Paul, 1985.
Medical ethics is a vitally important subject, and currently a highly controversial one.
Recent cases have highlighted both the intellectual and moral challenges posed by the dilemmas of modern medicine, and their significance for us all.
John Harris gives a fully up-to-date survey of the issues in this crucial field of applied ethics, including in vitro fertilization and experimeentationn on human embryos.
Professor Harris explores the principal ethical dilemmas that arise in medical practice and research, and by challenging our basic assumptions and familiar ideas, shows how the most difficult problems may be approached and resolved.
He presents a clear discussion of the major issues, and argues for a radical re-appraisal of our way of thinking about these problems and of the traditional solutions to them.
The book is intended both to introduce the general reader to the problems of medical ethics, and as a text for the study and discussion of medical ethics in medical schools and in the training of health professionals. It will also be of value as a text for applied and practical ethics courses in philosophy departments and departments of social policy and administrat politics, sociology and liberal studies.
BIC: