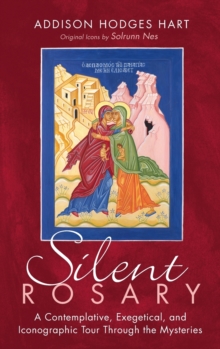 Silent Rosary
1725272318 / 9781725272316
Usually dispatched within 4 weeks
152 x 229 mm, 372 grams 152 pages
The twenty mysteries of the rosary are a circular ""gallery,"" a matrix of theology and spirituality.
They can inspire us profoundly. For those seeking a deeper encounter in faith, these mysteries have the power to move us toward contemplation. A lengthy Introduction explains in detail the meaning of the term ""mystery"" in Christian thought, provides a brief history of the rosary, explains the significance of Mary in the mysteries, explores the importance of ""beholding"" in the Scriptures and in our spirituality, and explores Christian iconography.
The centerpiece of the book is the ""gallery"" of the mysteries as illuminated by the iconography of Solrunn Nes, each image supplemented with explanatory commentaries by Addison Hodges Hart.
The latter incorporate biblical exegesis, pertinent historical details, and insights from classical spiritual writers.
The aim is to provide insight into the symbolism and typology of each mystery and to lead the reader into contemplative prayer and action.
Throughout, the book unites an outward ""beholding"" of the mysteries of the rosary with the inner practice of the work of silence.
BIC:
AGR Religious subjects depicted in art, HRCV Christian life & practice