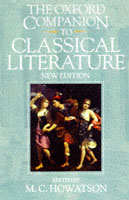 The Oxford companion to classical literature (2nd ed)
019860081X / 9780198600817
Reprint. This ed. originally published: 1989.
The second edition of The Oxford Companion to Classical Literature provides enthusiasts for the classical world and its literary heritage with the complete reference guide to the subject.
This book not only presents the reader with all the essential facts about the authors, tales, and characters from ancient myth and literature, but also uniquely places these details in the wider contexts of the history and society of the Greek and Roman worlds.
With an extensive web of cross-references and a useful chronological table and location maps, this volume traces the development of literary forms and the classical allusions which have become embedded in our Western culture.*Accounts of the lives and works of the classical writers: poets, dramatists, historians, and philosophers from Aeschylus and Anacreon to Socrates, Xenophon, and Zeno * Character entries and plot summaries: the Labours of Hercules, the tragic fates of Oedipus and Antigone, the comic pieces by Aristophanes and Plautus, Odysseus' tussles with Polyphemus the one-eyed giant, the Sirens, and the god Poseidon * Literary styles: the development of biography, epic, rhetoric, tragedy, and lyric poetry; examples of metrical form and poetic devices: hexameters, iambic and lyric metres, assonance, metonymy * Historical, political, social, and wider cultural background: aqueducts, armies, art, education, emperors and political orators, law courts, music, position of women, religion, and vase-painting * General textual themes: Greek and Roman alphabets and language, books and writing, historiography, papyrology, transmission of ancient texts * Accessible and informative: all Latin and Greek words are translated; detailed maps pin-point places with literary connections; chronological table gives instant access to the major literary and historical events
BIC:
1QDAG Ancient Greece, 1QDAR Ancient Rome, 2AHA Ancient (Classical) Greek, DSBB Literary studies: classical, early & medieval, HBG General & world history, HBLA Ancient history: to c 500 CE
The title has been replaced.To check if this specific edition is still available please contact Customer Care +44(0)1482 384660 or schools.services@brownsbfs.co.uk, otherwise please click 9780199548552 to take you to the new version.
Title Unavailable: Out of Print