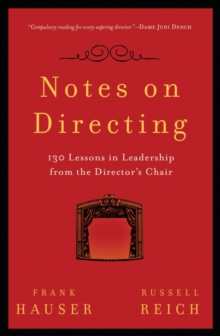 Notes on directing : 130 lessons in leadership from the director's chair
140812520X / 9781408125205
Professional & Vocational Learn More
Postgraduate, Research & Scholarly
Undergraduate
Reprint. Originally published: New York: RCR Creative, 2003.
"The next best thing to working with Frank Hauser is to read his book" Sir Ian McKellen "Compulsory reading for every aspiring director" Dame Judi Dench "A straight forward glimpse into the art of play making" Backstage "Likely to find itself in many directors' essential reading lists" UK Theatre Web The book is based on the notes of director Frank Hauser who had a distinguished career working alongside a host of theatrical and cinematic figures, including Sir Alec Guinness, Richard Burton, Sir Ian McKellen etc and many others who looked to Hauser as a teacher and mentor.
Based on a long relationship and many discussions with Hauser, former student, Russell Reich has expanded and enhanced these notes into a book.
Acclaimed as a timeless classic, the notes offer a succinct insight into the craft of directing and acting: from understanding the script, to rules for rehearsal, how to talk to actors, how to get a laugh, how to manage personalities and difficult situations.
The notes also offer rare quotes from artists as diverse as Anton Chekhov, Elia Kazan and Bernard Shaw.
BIC:
Title Unavailable: Out of Print