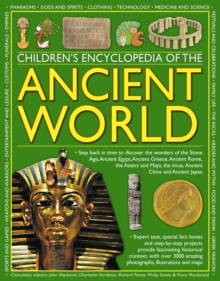 Children's encyclopedia of the ancient world : step back in time to discover the wonders of the Stone Age, ancient Egypt, ancient Greece, ancient Rome, the Aztecs and Maya, the Incas, ancient China
1843229951 / 9781843229957
Stock expected by 13/03/2021
22 cm 512 pages : illustrations (colour), maps (colour)
Step back in time to discover the wonders of the Stone Age, Ancient Egypt, Ancient Greece, Ancient Rome, the Aztecs and Maya, the Incas, Ancient China and Ancient Japan.
You can explore the ideas, discoveries and technology that have shaped the human race since the beginning of time.
Expert text and special fact boxes provide fascinating historical context, with over 3000 amazing photographs, illustrations and maps.
Experience the past with 120 step-by-step projects - fly your own Chinese dragon kite, build a model of an Egyptian pyramid, and prepare a Stone Age meal.
It is ideal for home or school use for 8- to 12-year-olds.
Journey through 30,000 years of human history and explore the wonders of the ancient world.
Readers can probe the mysteries of the pyramids of ancient Egypt for themselves.
Pictures and words combine to show how one small city became the heart of the mighty Roman Empire.
Find out how the Aztecs treated rattlesnake bites and tarantula stings, and learn the secrets of the Japanese martial arts.
The comprehensive yet lively information is accessible on many levels - perfect for home study, school projects, or just for fun.
BIC:
1QDA Ancient World, YNH History & the past: general interest (Children's / Teenage), YNPH Handicrafts (Children's / Teenage)