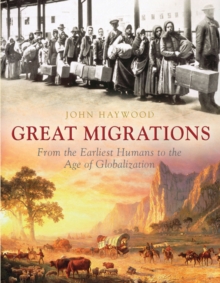 The great migrations : from the earliest humans to the age of globalization
1847245439 / 9781847245434
Usually dispatched within 2 weeks
29 cm 255 p. : ill. (chiefly col.)
From the movement of homo erectus out of Africa one million years ago to the Aboriginal settlement of Australia around 50,000 BC; and from the barbarian invasions of early medieval Europe to the diaspora of African slaves in the early modern period, the migration of peoples has been a critical motor of change throughout human history.
The Wanderers brings together 50 epic accounts of the mass movement of peoples.
Each account not only describes the migration itself, but also examines in detail its causes, and its short- and long-term consequences. The Wanderers tells a multiplicity of stories - of the discovery of new worlds, of flight from persecution, of nation-building, of colonization, and of human courage and resourcefulness.
Most of all, it tells the enthralling and multifaceted story of the human race itself. Migrations covered include: The long walk out of Eden: the spread of early humans The medieval German 'Drive to the East' The first Americans The Spanish in the New World The Phoenicians and the foundation of Carthage The Portuguese in Brazil The Celtic migrations The Plantations in Ireland The Greek colonisation of the Mediterranean The English in the New World The Jewish Diaspora Slave migrants: the African Diaspora The Huns and the Age of Migrations Irish migrants in the 19th century The Vandals Italian migration to America The Anglo-Saxon migrations Goldrush to California The Arab expansion Back to Israel The Viking Atlantic saga The forgotten aftermath of WWII The Turks: from central Asia to Constantinople Migrations in the age of globalisation
BIC: