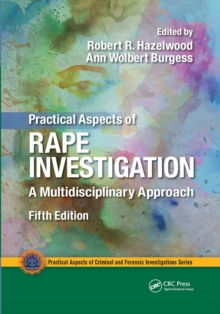 Practical aspects of rape investigation : a multidisciplinary approach (Fifth edition)
0367778408 / 9780367778408
Reprint. This edition originally published: 2017.
This latest edition addresses rape and sexual assaults from all clinical, pathological, medical, and legal aspects.
The book focuses on the victim and covers contemporary issues in sexual violence, investigative aspects of rape and sexual assault, offender fantasy, the personality of the offender, collection of evidence, medical examinations, and treatment, as well as trial preparation issues.
Special topics include pedophiles, female and juvenile offenders, drug-facilitated rape, sexual sadism, elder abuse, and sexual assault within the military.
BIC: