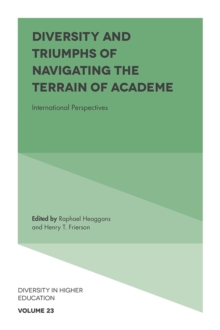 Diversity and triumphs of navigating the terrain of academe : international perspectives
1789736080 / 9781789736083
Usually dispatched within 4 weeks
Many challenges are faced by under-represented groups in academia.
Difficulties during the tenure process, prejudice stemming from affirmative action and higher levels of scrutiny than their colleagues are just a few tribulations experienced by faculty members from minority groups that have gone unnoticed and often ignored.The contributors of Diversity and Triumphs of Navigating the Terrain of Academe share these narratives and tell of how faculty navigate through situations such as microaggressions, racism and sexism.
By taking an anecdotal approach, this volume captures the experiences of those who teach at institutions dominated by white males in the United States and abroad. This book is written as a treatise to dismantle the powers of discriminatory incubuses that have haunted institutions of higher learning, one narrative at a time.
Some of these institutions are still making history in hiring its first person of color within its departments. Collectively, the contributors' experiences serve as instrumentalities that work together to initiate dialogue among current and future members of the professoriate, making this title an invaluable text for researchers and higher education administrators alike.
BIC:
JNFN Inclusive education / mainstreaming, JNKH Teaching staff, JNM Higher & further education, tertiary education