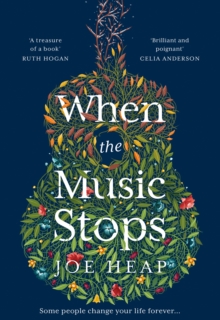 When the music stops : a novel
0008293201 / 9780008293208
23 cm 371 pages : illustrations (black and white)
'The sheer definition of a page-turner' Reader review 'A truly original, bittersweet tale of life, loss and enduring love that had me completely hooked.
A treasure of a book!' Sunday Times bestseller, Ruth Hogan 'Stunning, stunning, stunning' Anstey Harris This is the story of Ella. And Robert. And of all the things they should have said, but never did. 'What have you been up to?' I shrug, 'Just existing, I guess.' 'Looks like more than just existing.' Robert gestures at the baby, the lifeboat, the ocean. 'All right, not existing. Surviving.' He laughs, not unkindly. 'Sounds grim.' 'It wasn't so bad, really.
But I wish you'd been there.' Ella has known Robert all her life.
Through seven key moments and seven key people their journey intertwines. From the streets of Glasgow during WW2 to the sex, drugs and rock n' roll of London in the 60s and beyond, this is a story of love and near misses.
Of those who come in to our lives and leave it too soon. And of those who stay with you forever... Readers LOVE When the Music Stops! 'Endearing and beautifully told' Janet 'Stunning ...with touches of a modern day Jane Eyre in that invisible space between the pages.
Unusual. Rare. Magical. Highly recommended.' Jenny 'What a storyteller this author is...The closing chapters are sublime, and brought me to tears.
A beautiful ending. This book will remain with me long after I write this review' Janette 'It mixes the ordinary with the extraordinary...in one way a version of David Nicholls' One Day' Jane 'I fell in love with this lovely book...it's about the things that connect us.
A terrific read' Pamela 'This is going to leave a few people with tears in their eyes...read it in one sitting' Louisa 'There was one scene that overwhelmed me, had me crying so much I had to put the book down and take a breather.
I went back after 15 mins to re-read, and cried again...Joe Heap does not disappoint' Reader review ' I just loved Ella and lived every step of her journey...a compulsive read' Bren 'I'm swiftly becoming a big fan of Joe Heap!' Emily
BIC:
1DBKESL London, Greater London, 1DBKSC Central Scotland, 2AB English, 3JMG c 2010 to c 2020, 5HC Christmas, FA Modern & contemporary fiction (post c 1945), FRH Historical romance