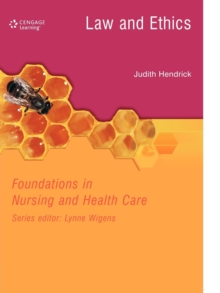 Law and ethics in nursing and health care
0748733213 / 9780748733217
Usually dispatched within 4 weeks
research & professional Learn More
academic/professional/technical
This work offers practical guidance to health professionals on ethics and health care practice.
It uses case studies to examine legal and ethical issues within the specific context of health care, to show why it is important for students and professionals to understand the implications of their actions.
It examines the patient-client relationship with particular reference to confidentiality, consent, responsibility and accountability.
This work looks at the relationship between the law, codes of practice and health care circulars and includes guidelines from the UKCC and other professional bodies.
Suitable for students and professionals in all areas of nursing and health care, this text will provoke thought full discussion on situations in daily practice.
BIC:
1DBKE England, 1DBKW Wales, 4KHT For National Curriculum Key Stage 4 & GCSE, LAY Law as it applies to other professions, LNV Torts / Delicts, MBDC Medical ethics & professional conduct, MBN Public health & preventive medicine