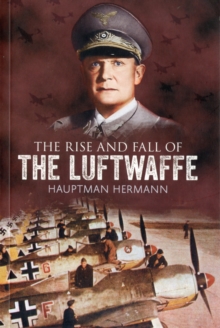 The rise and fall of the Luftwaffe
1781550069 / 9781781550069
"The Luftwaffe - the German Air Force - will no longer have a decisive influence on the outcome of World War II, no matter how long it takes to beat Hitler." It is more than two years since I first heard these words.
The man who spoke them to me continued: "No doubt, we will hear of the Luftwaffe before the war is over.
We will hear a lot. But don't let us be deceived. No matter what happens, the Luftwaffe can never be used as a strategic first-line weapon within the Nazi plan.
It can play no role but that of a tactical and auxiliary weapon." Curt Reiss, December 1943. Can it really be true that in 1941 insiders knew the Luftwaffe was a spent force; and a failed organization?
This remarkable, but little-known book was written in 1943 and published in 1944.
It argues, with remarkable clarity how incompetence at the highest level, both in planning and strategy led the Luftwaffe - pushed by the Nazi Party - to adopt a policy that left it hopelessly stretched and exposed.
Little known facts shine out - such as the policy of failing to produce spares led the Luftwaffe to lose 2,500 aircraft during the invasion of Poland alone. The regime designed the Luftwaffe for Blitzkrieg, and Blitzkrieg alone.
When a long-haul set in on an eastern front, on an African front and later on a western front, the collapse of Germany became simply inevitable.
Crammed full of fascinating detail, and displaying much prescience, this book leaves the reader with the distinct impression that the much-vaunted German efficiency suffered from the dead-hand of the Nazi Party with its corruption and its contradictions.
The insights into Goering and his wholesale thefts to fund a lavish life-style add colour to the picture of his incompetence.
BIC:
1DFG Germany, HBG General & world history, HBW Military history, HBWQ Second World War, JWG Air forces & warfare, JWLF Battles & campaigns