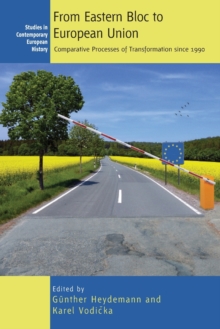 From Eastern Bloc to European Union : Comparative Processes of Transformation since 1990
1789208211 / 9781789208214
152 x 229 mm 416 pages, 56 figures
General (US: Trade) Learn More
Postgraduate, Research & Scholarly
Undergraduate
More than 25 years after the fall of the Soviet Union, European integration remains a work in progress, especially in those Eastern European nations most dramatically reshaped by democratization and economic liberalization.
This volume assembles detailed, empirically grounded studies of eleven states-Estonia, Latvia, Lithuania, Poland, the Czech Republic, Slovakia, Hungary, Romania, Bulgaria, Slovenia, and the former East Germany-that went on to join the European Union.
Each chapter analyzes the political, economic, and social transformations that have taken place in these nations, using a comparative approach to identify structural similarities and assess outcomes relative to one another as well as the rest of the EU.
BIC:
1QFE EU (European Union), 3JJPR c 1990 to c 2000, 3JMC c 2000 to c 2010, 3JMG c 2010 to c 2020, HBJD European history, JPB Comparative politics