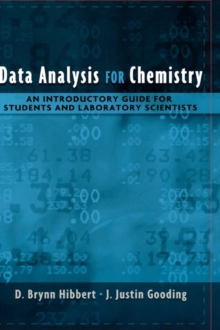 Data analysis for chemistry : an introductory guide for students and laboratory scientists
0195162110 / 9780195162110
Stock expected by 20/12/2019
Chemical data analysis, with aspects of metrology in chemistry and chemometrics, is an evolving discipline where new and better ways of doing things are constantly being developed.
This book makes data analysis simple by demystifying the language and whenever possible giving unambiguous ways of doing things.
Based on author D. Brynn Hibberts lectures on data analysis to undergraduates and graduate students, "Data Analysis for Chemistry" covers topics including measurements, means and confidence intervals, hypothesis testing, analysis of variance, and calibration models.
The end result is a compromise between recipes of how to perform different aspects of data analysis, and basic information on the background principles behind the recipes to be performed.
An entry level book targeted at learning and teaching undergraduate data analysis, "Data Analysis for Chemistry" makes it easy for readers to find the information they are seeking to perform the data analysis they think they need.
BIC:
PBT Probability & statistics, PDE Maths for scientists, PN Chemistry