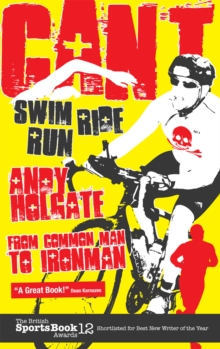 Can't swim, can't run, can't ride : from common man to ironman
1848187432 / 9781848187436
A 2.4-mile swim, a 112-mile bike ride and a 26.2-mile run make up the Ironman triathlon.
It's not for the faint-hearted. What possesses an overweight, thirty-something librarian who can't swim, doesn't own a bike and has two dodgy knees to take on the hardest one-day endurance race in the world?
Can't Swim, Can't Ride, Can't Run is the story of Andy Holgate's inspirational, epic and life-changing journey to become an Ironman.
Lubricant, alligators, rubber suits, blisters, pirates, extreme weather, Elvis, tragedy, romance, flesh-eating amoebas, crashes, hospital visits and perhaps the most unusual stag weekend in history all play a part in this amusing and moving tale of one normal bloke's quest to arrive at his wedding intact.
Oh yeah, that's right, Andy is due to get married seven days after the biggest physical challenge of his life.
Will he make it down the aisle in one piece?
BIC:
BGSA Autobiography: sport, WSE Extreme sports, WSKQ Multidiscipline sports