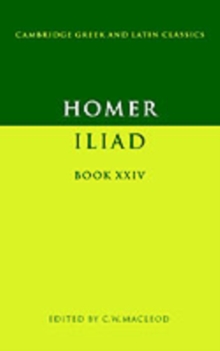 0521286204 / 9780521286206
Usually dispatched within 4 weeks
128 x 204 mm, 210 grams 176 pages, Worked examples or Exercises
Professional & Vocational Learn More
Tertiary Education (US: College)
The twenty-fourth book of the Iliad - the account of Priam's ransoming of Hector's body from Achilles - is one of the masterpieces of world literature, a work of interest to a far wider audience than scholars of ancient Greek.
In this edition Colin Macleod tries to reach both scholars and Greekless readers alike.
In his commentary he gives help to readers unfamiliar with the language of Homer and discusses problems of content and expression, never treating this book in isolation but drawing attention to Homer's artistry and thought in the context of the whole of the Iliad.
In his introduction Mr Macleod examines Homer's notion of poetry, his style and language and the architecture and meaning of his work.
He tries to show why Book XXIV is a proper conclusion to the Iliad.
This is an edition for classical scholars, undergraduates and students in the upper forms of schools.
The introduction and substantial parts of the commentary require no knowledge of Greek and should find readers among all who are interested in European literature.
BIC: