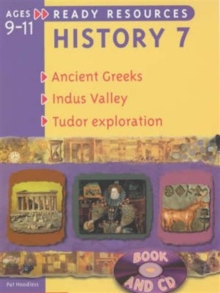 History7: Ancient Greeks, Indus Valley, Tudor exploration
0439984548 / 9780439984546
Usually dispatched within 2 weeks
The time-consuming process of finding, making and gathering together the resources needed when starting a new unit of work can be solved easily with Ready Resources.
Each book and accompanying CD-Rom in the series contains a collection of resources designed to match the specified requirements for particular teaching units in the History QCA Scheme of Work.
Resources on the CDs include: * colour and b/w photographs; * illustrations * maps; * archive and specifically produced film; *sound Photocopiable resources in the books are also provided on the CD and include: * stories; * non-fiction; * word and sentence cards; * timelines; * writing frames.
The book also includes practical teachers' notes that provide background information about the resources, as well as discussion and activity ideas.
All resources from the CD Rom can be printed allowing teachers ultimate flexibility with grouping and sharing resources in the classroom.
CD Rom resources can be pre-selected and run as a 'slide-show' for ease of classroom use.
To use the CD you will require: *PC or MAC with 32 Mb Ram, *Microsoft Windows 95 or higher or MAC with system 7.5 or later, *facilities for printing, *sound facilities
BIC:
4KHJ For National Curriculum Key Stage 2, JNUM Teachers' classroom resources & material, YQH Educational: History