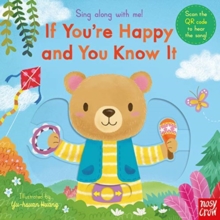 If you're happy and you know it
1788008502 / 9781788008501
18 cm 10 pages : chiefly illustrations (colour)
Reprint. Includes QR code to access audio edition. Originally published: 2016. Slide-the-tab book Board book.
An adorable Sing-Along board book story, with five robust board sliders - easy for little hands to use!
Each board book comes with a free instrumental and vocal version of the nursery rhyme - simply scan the QR code for little ones to listen and sing along!With bright illustrations this series make the perfect gift for a baby or toddler!
Can you nod your head and stamp your feet like this little bear?
A cute and engaging retelling of this favourite action rhyme. There are loads of titles to collect... Sing Along with Me! The Wheels on the BusSing Along with Me! If You're Happy and You Know itSing Along with Me! Old Macdonald Had a FarmSing Along with Me! Row, Row, Row Your Boat ...and many more!
BIC: