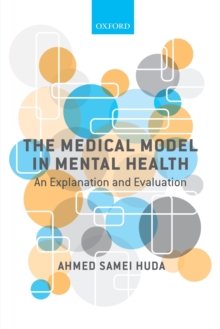 The medical model in mental health : an explanation and evaluation
0198807252 / 9780198807254
Many published books that comment on the medical model have been written by doctors, who assume that readers have the same knowledge of medicine, or by those who have attempted to discredit and attack the medical practice.
Both types of book have tended to present diagnostic categories in medicine as universally scientifically valid examples of clear-cut diseases easily distinguished from each other and from health; with a fixed prognosis; and with a well-understoodaetiology leading to disease-reversing treatments.
These are contrasted with psychiatric diagnoses and treatments, which are described as unclear and inadequate in comparison.
The Medical Model in Mental Health: An Explanation and Evaluation explores the overlap between the usefulness of diagnostic constructs (which enable prognosis and treatment decisions) and the therapeutic effectiveness of psychiatry compared with general medicine.
The book explains the medical model and how it applies in mental health, assuming little knowledge or experience of medicine, and defends psychiatry as a medical practice.
BIC: