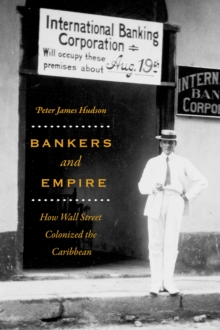 Bankers and empire : how Wall Street colonized the Caribbean
022645911X / 9780226459110
From the end of the nineteenth century until the onset of the Great Depression, Wall Street embarked on a stunning, unprecedented, and often bloody period of international expansion in the Caribbean.
The precursors to institutions like Citibank and JPMorgan Chase, as well as a host of long-gone and lesser-known financial entities, sought to push out their European rivals so that they could control banking, trade, and finance in the region.
In the process, they not only trampled local sovereignty, grappled with domestic banking regulation, and backed US imperialism but they also set the model for bad behavior by banks, visible still today.
In Bankers and Empire, Peter James Hudson tells the provocative story of this period, taking a close look at both the institutions and individuals who defined this era of American capitalism in the West Indies.
Whether in Wall Street minstrel shows or in dubious practices across the Caribbean, the behavior of the banks was deeply conditioned by bankers' racial views and prejudices. Drawing deeply on a broad range of sources, Hudson reveals that the banks' experimental practices and projects in the Caribbean often led to embarrassing failure, and, eventually, literal erasure from the archives.
Bankers and Empire is a groundbreaking book, one which will force readers to think anew about the relationship between capitalism and race.
BIC:
1KBB USA, 3JH c 1800 to c 1900, HBJK History of the Americas, HBLL Modern history to 20th century: c 1700 to c 1900