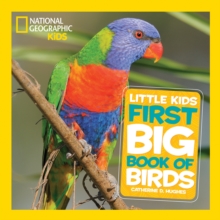 Little Kids First Big Book of Birds
1426324324 / 9781426324321
Usually dispatched within 4 weeks
265 x 265 mm, 780 grams 128 pages
This adorable reference introduces young readers to birds of all kinds: big and small, flyers and swimmers, colourful and plain.
They'll find backyard favourites, such as robins and cardinals and be introduced to more unique species that inhabit rain forests and deserts around the world. Bird behaviours kids can relate to, including singing, dancing, building, swimming, and diving, reveal fascinating insights into the avian world.
More than 100 colourful photos are paired with profiles of each bird, along with facts about the creatures' sizes, diets, homes, and more.
This charming book will quickly become a favourite at Storytime, bedtime, and any other time.
BIC: