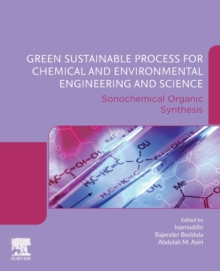 Green Sustainable Process for Chemical and Environmental Engineering and Science : Sonochemical Organic Synthesis
0128195401 / 9780128195406
Green Sustainable Process for Chemical and Environmental Engineering and Science: Sonochemical Organic Synthesis focuses on purification and extraction of organic, biological, and medicinal compounds using sonochemistry.
It provides readers with an understanding of green ultrasound-assisted chemical synthesis for industrial applications.
This book systematically explores the application of ultrasound in organic synthesis of all types and includes stereoselectivity, regioselectivity, oxidations, reductions, protection, deprotection, additions, condensation, coupling, C-X bond formation, named reactions, heterocyclics, biological drugs, and fluoroorganics over conventional techniques.
A brief introduction to the parameters which influence the process, solvent-effects, supported reagents and catalysis and the pros and cons to the practical use of sonochemical protocols in organic synthesis are also discussed.
This book provides overview on the applications of sonochemical technology for the sustainable and environmentally friendly development of synthetic methodologies for organic and pharmaceutical chemistry.
Sonochemical Organic Synthesis is an essential resource on green chemistry technologies for academic researchers, R&D professionals, and students working in modern organic chemistry and medicinal chemistry.
BIC: