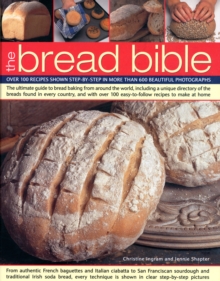 The bread bible : over 100 recipes shown step-by-step in more than 600 beautiful photographs
0754824063 / 9780754824060
Usually dispatched within 4 weeks
Reprint. Originally published: as The world encyclopedia of bread and breadmaking. 1999.
This title includes over 100 recipes that are shown step-by-step in more than 600 beautiful photographs.
It provides over 100 traditional bread recipes and variations from every corner of the world, from northern Europe to South America.
It features a fully illustrated reference guide to the different breads of the world, with fascinating information on their history as well as how each bread is baked, its shape and flavour.
Over 600 colour photographs, both step-by-step instructions and glorious pictures of the finished breads, show you clearly what you are aiming for at every stage.
It includes recipes for classic breads such as Italian ciabatta, Irish soda bread and San Franciscan sourdough as well as less well known breads such as Portuguese corn bread and Syrian onion bread.
It contains a detailed step-by-step techniques section that explains every stage of the bread-making process from mixing and kneading to glazing and baking, and offers advice on using automatic bread machines.
This title includes nutritional information for every recipe.
There is something truly wonderful about freshly baked bread. This comprehensive cookbook is both an illustrated guide to the breads of the world and a practical bread-making manual, with over 100 recipes for delicious homemade loaves of all kinds.
This book begins with a fascinating introduction to the history of bread and bakers from around the world.
A section on yeasts and leavening opens the techniques section, which describes, in an easy-to-follow format, all the basics from mixing dough to baking the loaf.
The comprehensive reference guide that follows is a fantastic visual catalogue of the breads of the world.
There are breads from almost every country in the recipe section.
Over 100 recipes have been tested and adapted where necessary so that you can bake them easily at home.
Illustrated step-by-step instructions take you through each stage of the preparation and there is a photograph of every finished bread, so that you can see what you are trying to achieve.
Whether you'd simply like to identify an unusual bread or want to try your hand at baking a classic loaf, this volume is an essential addition to your kitchen shelf.
BIC: