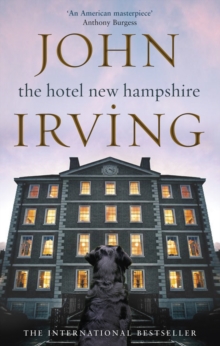 The hotel New Hampshire
0552992097 / 9780552992091
Quirky, bizarre, tragic, fiendishly funny, "The Hotel New Hampshire" is anything but a conventional family saga, though a family saga it certainly is.
The Berry family are different. Love abounds - both healthy and incestuous. It is the overwhelming desire of the Berry father to run a hotel, which he does, with dubious success, in both a former girls' school in New Hampshire, and in Vienna.
It is the Berry children who grab the readers' attention, sympathies and love - all five of them: Frank (the eldest), Franny (the weirdest), John (the narrator), Lily (the writer) and Egg (the youngest).
When Irving, or rather John, writes 'Frank's queer, Franny's weird, Lily's small and Egg is Egg' the initiated reader can do no other than shout a deafening 'yes, I know what you mean!' From there on, the reader is held spellbound as the family Labrador, Sorrow, is first stuffed then becomes the cruel victim of a plane crash; and as John and Franny realise their incestuous desires.
Stunningly readable, mercilessly involving, "The Hotel New Hampshire" is peopled with characters - and bears - that you'll never forget.
BIC: