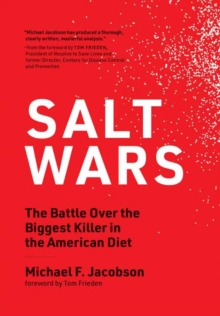 Salt Wars
0262044447 / 9780262044448
From the crusader credited with popularizing the phrase "junk food," Salt Wars uncovers the group of scientists who worked with food industry lobbyists and fought all efforts to reduce the dangerous levels of sodium in our food. A high-sodium diet is deadly; studies have linked it to high blood pressure, stroke, and heart attacks.
It's been estimated that excess sodium in the American diet causes as many as 100,000 deaths per year. And yet salt is everywhere in our diets--in packaged food, fast food, and restaurant meals.
Why hasn't salt received the sort of attention and regulatory action that sugar and fat have?
In Salt Wars, Michael Jacobson explains how the American food industry have fought government efforts to reduce dangerous levels of sodium in our food.
BIC: