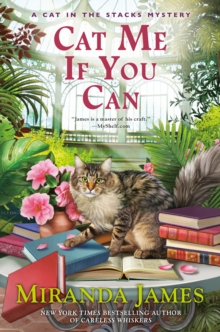 Cat Me If You Can
0451491181 / 9780451491183
Charlie Harris, along with his feline companion, finally decide to take a bookish vacation, but unfortunately, murder never takes a holiday in this all-new installment of the New York Times bestselling series.

Charlie and Diesel, along with Charlie's partner, Helen Louise Brady, are heading to western North Carolina to spend a week at a boutique hotel on the grounds of a luxurious estate and participate in a gathering of a mystery reader's club. The group is composed of patrons of the Athena Public Library, and in addition to seeing the local sights, the members will take turns giving talks on their favorite authors.

The Ducote sisters, friends of the owners of the hotel, are helping underwrite the week's expenses, and they insisted that Charlie, Helen, and Diesel join them. Anxious to get Helen Louise away from her bistro for a vacation, Charlie readily agrees. While Charlie is looking forward to relaxing and spending time with Helen Louise and Diesel, other members of the group have ulterior motives. One of them has a long-standing score to settle, and soon a member of the group turns up dead. Evidence at the scene appears to implicate Miss An'gel or Miss Dickce. Charlie knows his favorite sisterly duo is innocent. Now he and Diesel just have to prove it.
BIC: