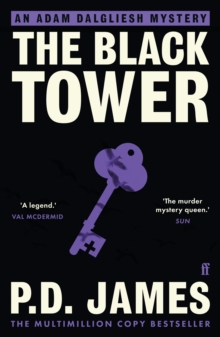 The black tower
057135081X / 9780571350810
Reprint. Originally published: 1975.
Now a major Channel 5 series'The Queen of Crime.' New York TimesCommander Dalgliesh is recuperating from a life-threatening illness when he receives a call for advice from an elderly friend who works as a chaplain in a home for the disabled on the Dorset coast.
Dalgliesh arrives to discover that Father Baddeley has recently and mysteriously died, as has one of the patients at Toynton Grange.
Evidently the home is not quite the caring community it purports to be.
Dalgliesh is determined to discover the truth of his friend's death, but further fatalities follow and his own life is in danger as he unmasks the evil at the heart of Toynton Grange. 'More expertise from P. D. James. The writing is excellent, the pitch of final terror beautifully sustained.' Evening Standard'Her atmosphere is unerringly, chillingly convincing. And she manages all this without for a moment slowing down the drive and tension of an exciting mystery.' Marcel Berlins, The Times
BIC: